CYBER.EU.VET : Cybersecurity Game Jam
October 8, 2021 @ 6:00 am

-

October 9, 2021 @ 9:00 pm

Free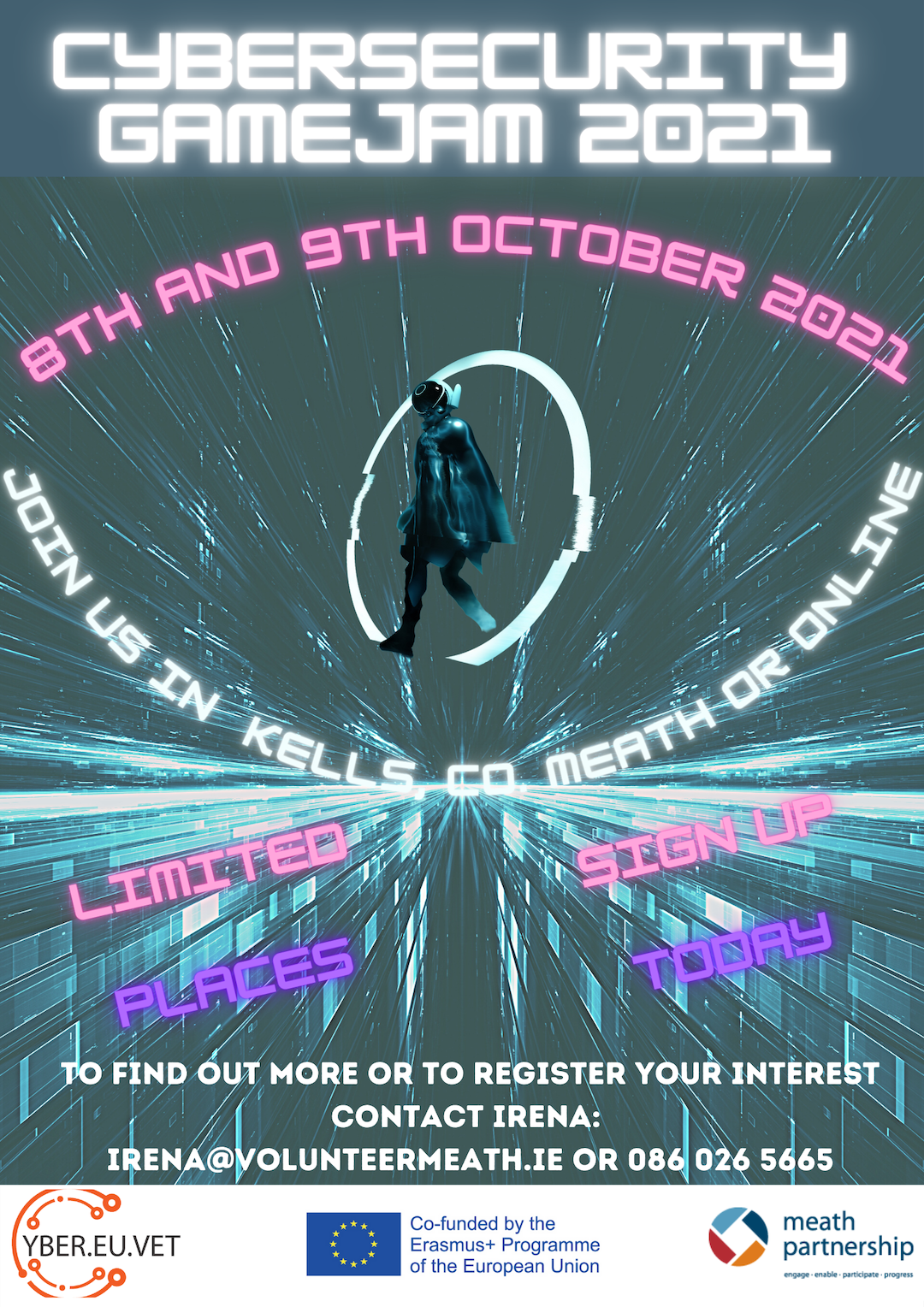 The Cybersecurity Gamejam 2021 is being organised as part of the CYBER.EU.VET Erasmus+ project. The main objective of the project is to strengthen the European VET capacity to recognise and manage cybersecurity threats (e. g. phishing attacks, botnets, financial and banking frauds, data fraud et.).
The project will help to improve the skills of VET educators in relation to management of cybersecurity threats, which is very important especially considering their central role in the knowledge transfer of good practices and skills to their students.
Last but not at least, this project will also help to increase the awareness of teachers, students and their families about the importance to recognise such daily risks, which can have both economic and social impact.
Games developed during the Gamejam will be included in the Cybersecurity Awareness Training material developed as part of the project.
? REGISTRATION
https://docs.google.com/forms/d/e/1FAIpQLSed2pdUvyw4_DC9EpfTbgff9LsvFaFkkxMnOpk9IWXTnLLLgw/viewform
? AGENDA
8th October 2021 (6pm – 8pm) – Day 1 – Online
18:00 – 18:15: 

 

Welcoming, Presentation of the Cyber.EU.VET project
18:15 – 18:45: 

 

Opening – Opening – Welcome to the Cybersecurity Gamejam – Agenda and instructions for Day 2

 

18:45 – 19:15:

 

Introductions of the participants – creating teams

 

19:15 – 20:00:

 

Discussion, Q&A, Closing

 
9th October 2021 (9am – 9pm) – Day 2 – Blended (F2F and Online)
8:30 – 9:00: Arrival of the participants, connecting those participating online
9:00 – 9:35: 

 

Breakfast Buffett (Buffett tables with drink and snacks including healthy options will be available throughout the day)
9:30 – 10:00: 

 

Opening
10:00 – 14:00: 

 

Cybersecurity Gamejam Part1
14:00 – 15:00:

 

Lunch Break
15:00 – 19:00:

 

Cybersecurity Gamejam Part2
19:00 – 20:30:

 

Dinner Buffett, Evaluations
20:00 – 21:00:

 

Announcement of the results, Closing
? FAQ
What tools can I use?
You use/bring your own tools, laptops, sound equipment, peripherals, software, assets, etc.
Will you provide equipment?
Meath Partnership has PCs onsite in their training room. More details to follow.
Am I able for a game jam?
YES! You like games, and having fun. You don't have to be a programmer, if you can draw, tell stories, make music, and more… come along! We need more designers, crafters and makers!
Is there an age restriction to participate?
Yes,  this event is fo 18s and over.
Do I have to be in a team?
Nope, let us know when you check-in at registration on Saturday morning (08:30 till 08:59), and let us know what skills you have, and we can form a group in the morning before we announce the theme.
How many can we have in a team?
As many as you want, but more than 1, it's fun to work with a team of people.  ?
Partnerships
GameCraft and Coding Grace are external community partners helping with facilitating this game jam. Both are not-for-profit Irish initiatives promoting community events, sharing experiences in a friendly and inclusive environment.
Any other enquiries
✉️ Please email irena@volunteermeath.ie