Imirt Workshop: Intro to Creating Character Concept Art for Games (Part 2)
February 24 @ 6:30 pm

-

8:30 pm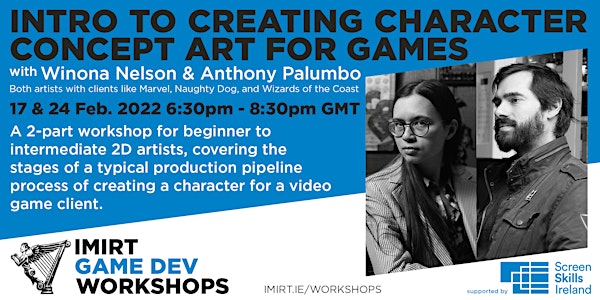 A 2-part workshop for 2D artists, covering the stages of a typical production pipeline process of creating a character for a game client.
About this event
Tickets are €5, but free for Imirt members.
Login to your account at Imirt.ie and check the Membership Content section for info on your discount code.
Intro to Creating Character Concept Art for Games
Two workshops, including preparation and homework.
Intro to Creating Character Concept Art for Games is a 2-part workshop for beginner to intermediate 2D artists, covering the stages of a typical production pipeline process of creating a character for a video game client. Winona and Anthony will guide you through methods for showing personality and narrative through a character's silhouette, body language, and costume design, while discussing technical aspects of anatomy, posing, drapery, and lighting.
Structure of the Workshops
Homework prep before the day: Material will be sent out to attendees before the event. This preparatory material will give examples of initial quick thumbnail sketches of characters used to explore and experiment with ideas for silhouette and shape. Students should set aside 1-2 hours before class to create some thumbnail sketches that will be reviewed in the workshop.
Thurs Feb 17: Reviewing Thumbnails and Starting Character Sketches
1 hr lecture on the stages of a character design with examples
Break
1 hr demonstration of taking the initial thumbnail to a more developed sketch stage, including live paintovers and critique of some selected thumbnails from students.
Homework – duration up to each participant, with the goal of refining their favorite thumbnail to a more developed sketch. Homework should be filed in a shared Google drive, for which a link will be provided.
Thurs Feb 24: Reviewing Character Sketches and Laying the Groundwork for Final Art
.5 hr lecture on examples of finished character concept art
.5 hr one-on-one feedback provided on participants' work, with Q&A
Break
1 hr continuing feedback and Q&A on the topics of technique, career advice, and further development
Bios:
Artist/writer Winona Nelson was born in 1983 and grew up in Duluth, Minnesota. She has drawn all her life and began painting digitally as a teenager. She studied classical realism and art for the entertainment industry at the Safehouse Atelier in San Francisco and began working in games in 2007. She now freelances fulltime, working in illustration, concept art, comics, fine art, and worldbuilding/IP development. Clients include Marvel Studios, Naughty Dog, and Wizards of the Coast among others. She teaches concept art and illustration online for SmArt School. Her fine art often focuses on the stories and history of her tribe, the Ojibwe of Minnesota, and on her experiences as a queer Two Spirit person of color.
Anthony Palumbo was born in Michigan in 1980. He studied oil painting at the Pennsylvania Academy of the Fine Arts, and began exhibiting his work in galleries in 2002. In 2008 he began illustrating for book publishers and gaming companies, with a focus on science fiction and fantasy. Today he works primarily as a freelance concept artist for video game studios while enjoying life in the Pennsylvania countryside.